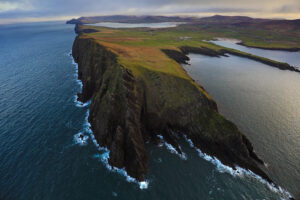 A visit to the Dingle Peninsula should not be missed on any trip to Ireland. The peninsula offers picturesque views along the Slea Head Drive and beautiful beaches. It is also home to the small town of Dingle, which is surrounded by a breathtaking coastal landscape. In the small picturesque harbor town with its many colorful houses there are numerous boutique stores, pubs and restaurants. Indulge in some delicious seafood or book in for a harbor cruise. If you are traveling with children we recommend the Dingle Aquarium, where you can see sharks, penguins, turtles and many other sea creatures.
Our favourite part of the Dingle Peninsula is the headland 'Slea Head'. It is located west of the town of Dingle and is known for its breathtaking views of the Atlantic Ocean and its cultural diversity.

Day Trip: Dingle Peninsula & Slea Head Drive
suggested itinerary
Take a day trip along Slea Head Drive one of the most spectacular panoramic roads in Ireland and enjoy the beautiful scenery. The well-signposted route takes you through stunning coastal scenery with steep cliffs, secluded beaches and green pastures. There are numerous opportunities for photo stops.
Since the coaches are only allowed to drive clockwise, we recommend you to do the same. In some places the road gets so narrow that you will not be able to pass.
First, you can stop at Dun Beg Fort, an Iron Age fortification located right on the edge of a cliff. These earthen ramparts with massive walls served as protection against attackers and visit the Beehive Huts for more cultural and historical insights.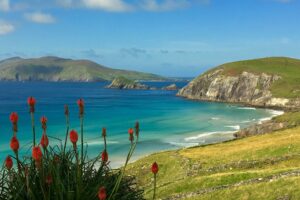 Adventure at Coumeenoole Beach
Take a detour to Coumeenoole Beach, one of the most beautiful beaches along Slea Head Drive. Here you can take a relaxing stroll or, if you're brave,
dive into the fresh Atlantic Ocean. The surrounding cliffs also offer great opportunities for hiking and photography. For nature lovers we recommend the Dingle Way hiking trail with 179 km which can be explored in 8 to 10 days which can be explored in stages.
Continue towards Dunquin – the westernmost point of Europe
This part is known for its dramatic cliffs and the impressive Blasket Islands Center Museum. This informative museum offers a glimpse into the lives of the former inhabitants of the Blasket Islands and the rich culture of the area. The inhabitants included many writers and poets who wrote numerous books on the island. One of the most popular books is "The Island Man" by Thomas O`Crohan.
The book tells about the life of the islanders who struggled daily to survive. The men risked their lives fishing and killing seals with their meager 'currachs' (small boats). The women led hard lives, spending their days cleaning, cooking and minding their countless children (some of whom never even reached adulthood). Despite all this, the people also knew great freedom and joy.
Gallarus Oratory
The Dingle Peninsula also offers many historic sites such as Gallarus Oratory, a well-preserved 9th century stone building that is considered a unique example of Irish architecture and was used as a house of prayer. Kilmakeder Church, a spectacular early Christian and medieval church site, dating back to the 12th century and several fascinating artifacts such as an alphabet stone, an Ogham stone, a sundial or a large stone cross.
On towards Dingle
On your way to Dingle there are more beautiful beaches like Clogher Beach and Wine Beach left to discover. If you find the water too chilly for, you might still consider a stop for a stroll or enjoy a drink in one of the numerous, authentic pubs in the small villages.

Dingle Town
End your day with a delicious meal in one of Dingle's cozy restaurants. Sample traditional Irish dishes or treat yourself to fresh local seafood, known for its outstanding quality. For whiskey fans, we recommend a visit to the Dingle Distillery. And for all culinary lovers, we highly recommend a trip to Ireland during the Dingle Food Festival in October. (Usually held on the 1st weekend in October.)
Wrap up
A day trip to Dingle with Slea Head is an unforgettable journey to Ireland's breathtaking coastal scenery. From the charming harbour town of Dingle to the spectacular panoramic Slea Head Drive to cultural experiences and adventurous moments on the beach, this region offers something special for everyone. Get ready to discover the beauty and charm of this wonderful corner of southwest Ireland and create unforgettable memories. Pack your camera and your hiking boots and let Dingle and Slea Head enchant you!